Post Oak Cemetery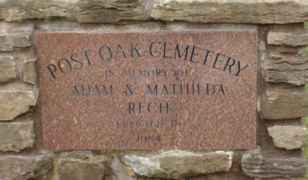 From Blanco, Clay, Young County Cemeteries by Paul and Tommie Smith
and
Provided by Joel Honeycutt and Pat Althaus
Blanco County Historical Commission, 101 Pitchfork, Johnson City, TX 78636.

Transcribed by: Mrs. Otto Sultemeier and Mrs. Charles Woods
Prepared for the TXGenWeb Blanco County Web Site by Wanda Qualls
There are 18 unidentified graves in this cemetery

Name

Plot #

Birth
Death
Notes
Picture
Ahrens, Orwin A.
89

Aug 06 1904
Dec 20 1991


Picture

Ahrens, Louise M.
89

Nov 28 1913
Apr 29 1990




Baldwin, Susan C.
57
no date

Nov 12 1890
6 yrs. 10 months 10 days
Daughter of J. C. & R. B. L.


Biggs, Mathilda

30

no date

no date





Chunn, Effie Edna
78

Apr 11 1892
Oct 27 1892
Dauter of W. T. & C. L.

Picture

Chunn, Leslie
77

Feb 14 1848
Nov 03 1892


Picture
Cauley, David
46

--- -- 1798
--- -- 1882
Grandfather

Picture


Cloudt, Arthur



59

no date

no date



Picture
Fred, Vernon
63

no date

no date







Fred, Retter
63

no date
no date




Gold, Guynn Edmond
42

Dec 08 1892
Dec 19 1892
Son of L. H. & B. A.

Picture
Heckle, Lola Rivers
80

May 06 1903
Jun 15 1977


Picture
Hazelett, George W.
45

--- -- 1847
--- -- 1880


Picture
Hazelette, Cassa
45

--- -- 1849
--- -- 1880




Hahne, Edna
51

Jan 18 1902
Jul 30 1926
Mother

Picture
Hickson, Child



abt 1871

1874

See Note


see

Note 2

Hornsby, Baby
28

--- -- 1920
--- -- 1920




Hamilton, Sandra Kay
24

Jul 18 1951
Aug 01 1951
Our Baby



Johnson, Gus
31

no date
no date





Langbein, Vada
36

Jan 02 1910
Aug 30 1930
nee Middleton

Picture
Langbein, Fritz Emil
38

--- -- 1909
--- -- 1954


Picture
Langbein, Willie C.
37

--- -- 1902
--- -- 1937
At Rest

Picture
Lundin, Walton Ray


--- -- 1936
--- -- 1989


Picture

Lundin, Beverly Woods



88

no date

Apr 29 1989

age 52



Lindig, Clifton W.



Jan 23 1923

Jul 05 1996



Picture
Lindig, Viola M.



Sep 27 1923



nee Sultemeier


Maddox, Nolan A.
87

Aug 13 1905
Feb 17 1987


Picture
Maddox, Arthur Robert
54

Jan 31 1882
Apr 03 1964
In Loving Memory of.

Picture
Maddox, Sarah Alpha
55

Jan 09 1882
Oct 24 1959
In Loving Memory of.

Picture
Maddox, Hubert N.
56

Aug 27 1913
Jun 12 1931


Picture
Mauldin, Stafferd S.
33

Jul 07 1898
Apr 12 1987


Picture
Mauldin, Rettie J.
33

Sep 09 1907
Jan 18 1980
nee Middleton



Middleton, John R.
34

May 14 1879
Jan 13 1966
A place is vacant in our home which can never be filled.

Picture
Middleton, Belle
35

May 29 1884
May 27 1934
Gone but not forgotten

Picture
Mitchell, Carrie
79

May 31 1876
Sep 16 1895




McLendon, William Monroe
25

--- -- 1872
--- -- 1952


Picture
McLendon, Newton R.
23

--- -- 1875
--- -- 1964
married - Sep 23 1905

Picture
McLendon, Annie M.
23

--- -- 1881
--- -- 1963
married - Sep 23 1905



McGaughey, E. L.
86

Sep 17 1889
Jul 10 1898




McCarty, Denver L.
81

--- -- 1940
--- -- 1978
MM3 US Navy

Picture
Neierbrausen, William B.


Mar 05 1853
Feb -- 1888
Novian, Chester

20

Feb 22 1918

Feb 22 1918

Darling - Son of Joe and Ella Frantzen Novian

Picture

Novian, Harry G.



Oct 28 1916

Oct 23 2007

Son of Joseph and Ella Frantzen Novian
Pvt US Army Air Force WWII
Picture

Odiorne, Myrta Mae
84

May 16 1891
Aug 06 1985


Picture
Piper, William



--- -- 1943

--- -- 2001



Picture
Piper, Ola Ruth



--- -- 1943

no date

nee Woods



Porter, Darnell


--- -- 1948
--- -- 1995
Corrected by GaryW5678@aol.com
Picture
Rech, Mathilde
15

Feb 04 1882
Jan 22 1928
Ruhe Sanft



Rech, Adam
16

Sept 21 1853
Apr 13 1937
Father - Rest in peace

Picture
Rech, Matilda L.
16

Mar 28 1859
Jan 22 1934
Mother - Rest in peace

Picture
Rech, Iriene
9

Feb 02 1928
Feb 02 1928
Asleep in Jesus

Picture
Rech, Pearl
10

Apr 18 1925
Apr 21 1925
Asleep in Jesus

Picture
Rech, Louis
11

Nov 02 1916
Nov 03 1916
Aleep in Jesus

Picture
Rech, Elisa
12

Apr 27 1915
May 01 1915
Asleep in Jesus

Picture
Rech, Baby
13

Jul 03 1909
Jul 03 1909
Asleep in Jesus

Picture
Rech, Erwin H.
14

Mar 06 1899
Jul 31 1913
Gone but not Forgotten

Picture
Rech, Infant
5

Feb 07 1919
Feb 07 1919
Daughter of Felix
Picture
Stueler, Frank A., Jr.
70

Feb 17 1914
Oct 02 1959


Picture
Stueler, Benno L.
71

--- -- 1905
--- -- 1953


Picture
Stueler, Eva Lois

Nov 19 1915


no date



nee Foster
Picture
Stueler, Frank


Jan 06 1878
Jan 20 1970


Picture
Stueler, Julius
72

Apr 22 1827
Mar 08 1915


Picture
Stueler, Anna Elizabeth
67

Jan 14 1837
Jan 19 1926


Picture
Stueler, Sherry Aileen


Sep 17 1945



nee Latham
Stueler, Ronald Lee

Oct 17 1944

Oct 21 2002



Picture
Sultemeier, Thekla A.
39

Sep 08 1907
Sep 29 1991
nee Langbein

Sultemeier, August W.
39

Jan 30 1884
Feb 09 1958
Picture
Sultemeier, Leo Sr.
29

Feb 26 1896
Oct 16 1974


Picture
Sultemeier, Dorothy
29

Feb 05 1901
Aug 06 1990


Sultemeier, Leo Jr.



Feb 03 1932

no date



Picture
Sultemeier, Earline M.

90

Feb 24 1935

Aug 25 1992



Sultemeier, Emma
17

May 11 1884
Nov 05 1965
married - Jan 02 1907

Sultemeier, Adolph A. D.
17

Feb 27 1874
Jan 02 1962
married - Jan 02 1907

Picture
Sultemeier, Minnie B.


Sep 16 1920
Feb 07 1990


Picture
Sultemeier, Herman
1

Sep 18 1843
Jul 02 1908
Asleep in Jesus! blessed sleep; From which none ever



Sultemeier, Minnie
1

Mar 03 1844
Oct 04 1919
wake to weep!

Sultemeier, Infant

6

no date

no date



Sultemeier, Ernest L.
7

--- -- 1886
--- -- 1956


Picture
Sultemeier, Keith
8

Oct 15 1969
Oct 16 1969


Picture
Sultemeier,Gustav
2

Sep 27 1877
Oct 13 1934
Father

Picture
Sultemeier, Bertha
2

Mar 20 1887
Nov 11 1966
Mother

Sultemeier, Erwin E.



Sep 13 1927





Picture
Sultemeier, Patsy G.



Nov 11 1935



nee Bryant

Sultemeier, Henri Wesle

4

Oct 18 1917

Nov 20 1917

Sweet Rest

Picture
Sultemeier, Kavin

--- -- 1969

--- -- 1999



Picture
Sultemeier, Milton W.



Sep 17 1916

Sep 18 1997



Picture
Sultemeier, Otto P.



--- -- 1916





Picture
Sultemeier, H. Maxine



--- -- 1919





Sultemeier, Wesley A.



--- -- 1920

--- -- 1998



Picture
Sultemeier, Elsie L.

--- -- 1923





Smith, Edgar P.
26

Jan 04 1857
Sep 02 1924
Father

Picture
Scherer, Otto
3

Nov 07 1863
Feb 06 1950
Husband - At Rest

Picture
Scherer, Minna
3

Jan 12 1876
Oct 20 1943
Wife - At Rest

Sultemeir, infant
Oct 20 1917
Oct 20 1917


Schmidt, Billy
75


no date



Dec 17 1902
rock fence enclosure

Picture
Sultemeir, Earline M.


Feb 24 1935
Aug 25 1992




Schmidt, August F.
85

Nov 01 1908
Jan 15 1986




Smith, Raymond M.
53

--- -- 1898
--- -- 1936


Picture
Smith, R. M.
52

Jan 08 1852
May 23 1927
Father

Picture
Smith, V. F.
52

Feb 05 1859
Feb 27 1947
Mother

Smith, Elizabeth

27

no date

no date



Smith, Two Babies

27

no date

no date



Smith, Ivan F.
50

--- -- 1889
--- -- 1926
Son

Picture
Smith. W. W.
49

Dec 18 1895
Jan 22 1919


Picture
Smith, Gladys
49

Jan 26 1916
Jan 24 1919


Smith, Thomas M.
48

Nov 04 1819
Jun 09 1889


Picture
Smith, Elizabeth
48

Apr 19 1829
Nov 16 1894


Picture
Smith, J. T.
47

Sep 18 1863
Jun 13 1908


Stevenson, J. B.


July 30, 1923
Nov 21 1993


Picture

Strickland, Mrs.



18

no date

no date



Picture
Tilly, ???

73

no date

no date

Rock enclosure

Tunnell, Shuford B.
22

Jan 13 1891
Sep 03 1975


Picture
Tunnell, Alfa E.
22

Jan 14 1898
Sep 07 1971


Tunnell, James R.
21

--- -- 1824
--- -- 1898


Picture
Tunnell, James Sterling
60

Nov 11 1863
Mar 12 1945


Picture
Tunnell, Elizabeth
60

Dec 25 1864
Jan 26 1953


Tunnell, Malcolm
61

Feb 08 1886
Mar 08 1914
Rest in Peace

Picture
Tunnell, Sterling
62

Jan 15 1884
Jan 17 1887


Picture
Tutt, Ethel O.
43

Jul 12 1887
May 07 1888
Daughter of W. C. & M. E.

Picture
Tutt, Etta
Jul 15 1875
Jul 27 1897


Tutt, Juddie Lee
40

Jul 12 1882
Aug 29 1906


Tutt, S. L.

44

Apr 06 1803

Jul 12 1887

A kind old mother and a friend to all.

Picture
Vollmar, Alfred
82

Jun 27 1904
Apr 09 1985


Vollmar, Fritz W.
19

--- -- 1854
--- -- 1934


Vollmar, Emilie
19

--- -- 1877
--- -- 1942


Wallis, Mrs. Clara
58

Feb 02 1813
Dec 24 1886
Mother

Picture
Walker, ???

68

no date

no date



Walker, ???

69

no date

no date



Weiershausen, Ottilie

74

Mar 06 1883

Feb -- 1886

daughter of William & Bertha

Wells, Mrs.
31

no date
no date



Whitfield, Herman Pledger
83

Oct 26 1900
Apr 20 1989


Picture
Whitfield, Thelma O.
83

Jun 15 1901
Apr 04 1985


Picture
Whitfield, Harold H.

May 07 1920

Jun 02 1998



Picture
Witfield, Helen Heckle



Aug 26 1924





Picture
Woods, Charles T.



Jan 23 1916





Woods, Leda Stueler



Feb 19 1912

Jun 26 2003



Picture
York, John F.
65

Nov 07 1868
Dec 08 1886
Son of W. C. and M. C.

York, Mrs. M. C.
64

no date

no date





Picture
Zerbest, Eliza C.


age 35 yrs
Aug. 26 1896


Note: Record Courier by Mr. Frank Stueler: "It was the irony of fate that the first grave to be made in the Post Oak Cemetery was that of the three year old son of the man who had donated the plot of ground for that purpose. This was the son of Mr. and Mrs. Pinkney Hickson. The child died from an attack of croup. He was buried onSep 16 1874." (Aug 01 1958)

Note 2: According to information by Mrs. Charles Woods the following children of Mr. & Mrs. Pinkney Hickson are buried in the Post Oak Cemetery:
John Wesley - died Sep 28 1880
Frances Elizabeth Hickson McLendon - died Dec 06 1884
William Franklin Hickson - Sep 16 1874

Note 3: According to her death certiciate, Emily Ann McLendon is buried in Post Oak Cemetery. Date of Birth: Aug. 23, 1851 Date of Death: Oct. 22, 1921. Her sons and a great granddaughter are buried in the cemtery: William Monroe McLendon - plot #25, Newton R. McLendon - plot #23, and Sandra Kay Hamilton - plot #24. This information was submitted by N. McLendon.