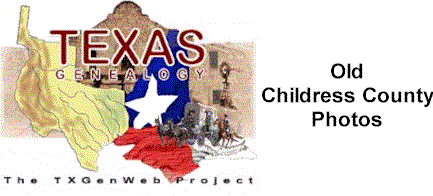 Photos linked from this page have been optimized for display and caption information added when available.
Use the BACK button of your browser to return to this page. If you have old photos of interest to Childress
County researchers and would like to have them included on this page, please send as email attachment
to the County Coordinator. Thanks!

Childress High School
Childress High School Childress High School - 1900's CHS Faculty- 1911
CHS Class of 1896? CHS 1960s ? 1912 Football Team CHS Majorette

Students and Schools
Wilson Elementary School 6th grade - 1963 Community Center School
Shores Creek Basketball Team 1923

Unknown Students - please help give them a name!
Group1 Group2 Group3 Group4 Group5 Group6 Group7 Group8
Group9 Girl Team1 Girl Team2 Girl Team3

Assorted photos from an album of Annie Wilson (1880-1951), a teacher in Childress.
Courtesy of Vicki Shaffer
A Sunday Drive? Pickin' Cotton House House2

Unk.Person A Car Load Off Road

Carey & Vicinity
Carey Volleyball 1934 Carey Volleyball 1935 Carey Cardinals 1935
Carey Baptist Church Sunday School Class
Carey Consolidated School 1928

1928 Class C Basketball
Childress & Vicinity
Cotton Gin - 1954 Avenue B Childress Davidson's Dry Goods Childress 1890
Civic Buildings Childress YMCA FW-Denver RR Jeter Townsend Hospital
Downtown Childress ~1940 Gardner's Service Station Childress Theater 1917
M E Church ~1927 Rebekah Lodge Business District - 1910 Methodist Episcopal Church
1909 Selling Cotton Main St., Childress, Texas 1st Baptist Church ca 1950

Assorted photos from the Library of Congress taken by Dorothea Lange 1937/8.
Courtesy of Clemi Blackburn
Abandoned Houses Carey Cafe $1 a-day Tractor Operator
Contour Plowing Abandoned Tenant House Abandoned Tenant Farm
Contour Plowing a Nettie Featherston Nettie Featherston a
Unknown Man / Carey P.O. O.O. Mills / Carey Postmaster

Moates Collection - Courtesy of Geneva Moates
Ms Bullock 5th grade class 1938 Childress Football Team 1943-44 Childress Basketball Team 1943-44
Wilson school 3rd grade class 1935-36 Wilson school 4th grade class May 1937 Childress Bobcats 1944-45
Childress Bobcats 1945-46 Class of 1944 Reunion Class of 1945 Reunion Class of 1944 Reunion 93

Kirkland High School
KHS 1939 KHS 1942 KHS Students 1914 KHS 1912 KHS Students 1925
KHS Girls Basketball Team 1925-26 KHS 1952 KHS Class of 1942 KHS Seniors 1954
KHS 1950-51 Boy Basketball Team 1952 KHS Seniors 1952-53 Basketball Team 1947-48 Basketball Team
1938 Basketball Team Class of 1939 Alvis & Octie Dennington, Teachers 1947-48 School Trustees
Students
4th Grade 1938 Kirkland School Students -1910

Kirkland and Vicinity
FixAll Garage Main Street ~1911 Main Street ~1907 First State Bank ~1935
Main Street ~1907 a Main Street ~1907 b Baptism ~1914 1940s Farmhouse
Tom Sanders House ~1917 Good Old Days Jess Key House 1921
Dill House ~1917 Jess Key House 1925

People and Families of Childress Co.
MSgt. Paul C. Jones Judge Wiley P. Jones S. Key B-day 1928
S. Key B-Day 1928 Mr&Mrs J.F. Pieratt 1915 Unknown Trio
J.F. Pieratt Family 1917 Williamson Family 1916 First Methodist Church 1950s
Panhandle Social Club -1955 Moody -1946 4 Generations Ella Mae Taylor
T.B. Sanders Family ~1917 Welch Children - Arlie School ~1910 Dee & Allie Trent
Luther & Cora Holtman JW & Mary Trent James Zachary Trent Mary & John W. Trent
Dee & Allie Trent(2) Trent Family Thomas Jefferson Simmons II and Mamie Mae Hardin Simmons
AB White Family of Childress AB White downtown Childress WWII AB White's Retirement Party
Horace Herman White A Harvest in Childress ca 1920 1934 Simmons Family
Thomas Jefferson Simmons II Thomas Jefferson Simmons II Simmons Wedding Photo

HOME |CEMETERIES |CENSUS | COURT |LOOKUPS |HISTORY |MILITARY |OLD PHOTOS |OBITS |STORIES | SURNAMES |TOWNS |