This website is available for adoption.
If you are interested in maintaining the site, contact the TXGenWeb State Coordinator.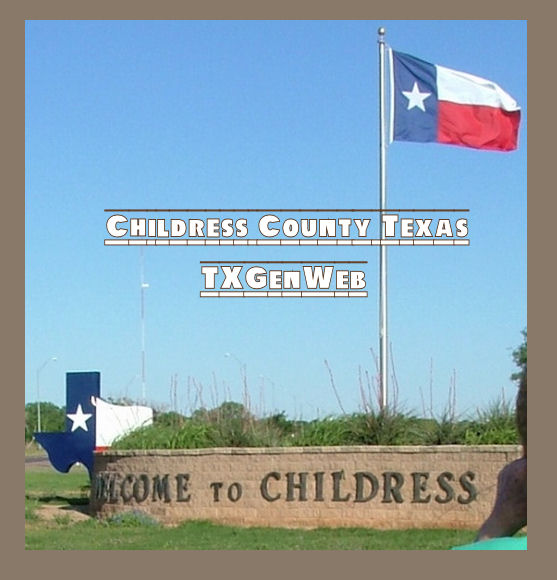 Photo Courtesy Sherry Key
Childress County was created in 1876 and named in honor of George Campbell Childress, lawyer, statesman, and author of the Texas Declaration of Independence.
The city of Childress is the county seat.


This site is part of The TXGenWeb Project and The USGenWeb Project and is dedicated to the posting of "free access" genealogical information on the Internet.

Anyone who desires to contribute to the information contained on these pages or has reference material and willing to do lookups please contact Shirley Cullum. The TXGenWeb State Coordinator is Shirley Cullum.
PLEASE consider making a contribution to our site!
Thanks! Shirley Cullum


SEARCH CHILDRESS COUNTY BELOW

Fly over Childress with your pilot, Colonel Sydney Key!



JOIN THE CHILDRESS CO. TX EMAIL LIST !
TXCHILDR-L To subscribe, send a message to TXCHILDR-request@rootsweb.com
that contains (in the body of the message) the word- subscribe -and no other text.
Visit Childress Neighboring Counties
Greer Co. Oklahoma
COLLINGSWORTH - HALL - COTTLE - HARDEMAN

Index of Texas Counties

There have been
visitors to this site.
Dell Canada
HOME | CEMETERIES | OBITS |CENSUS | COURT | LOOKUPS | HISTORY | MILITARY | OLD PHOTOS | STORIES | SURNAMES | TOWNS | VITALS