Crane County, Texas
Created 1886 and Organized 1927
---
Crane County was formed in 1887 from land previously assigned to Tom Green County the same year. Scant rainfall discouraged settling the county. The first, and only, city of Crane County, Crane, was established in 1908. The discovery of oil in 1926 led to the county being organized the following year, and led to Crane's development as an oil boomtown.
Crane County was attached to Ector County for administrative purposes until 1927.

Welcome to the Crane County TXGenWeb Site

My name is Laura Gregory Roberts, and I am the Volunteer County Coordinator for Crane County. I'm very glad you stopped by and hope that you find this website useful for your genealogical research.
I am not able to help with specific research questions, but should you have any questions or comments regarding the Crane County Genealogy Project, please e-mail me.
Please note I do not live in Crane County.

This site is partnered with The TXGenWeb Project and The USGenWeb Project. The records and files on these pages are FREE for your personal use. We welcome donations of Photographs, Historical Articles, Family Biographies, School Class Pictures, Bible Records, Old Letters and Obituaries for Crane County.


Laura Gregory Roberts
County Coordinator

Shirley Cullum
TXGenWeb State Coordinator

---
(1895 map, Crane County Govt. Site, Maximilian's Gold, Historical Sites Atlas, Microfilm Records, Landmarks of Crane County, Texas Maps)
---
(Crane Independent School District, Crane News, Fire Dept., Florists, Funeral Home, Crane County, District and County Clerk, Library, Chamber of Commerce and Museum, Best Budget Inn)
---
---
---
---
---
---
(Castle Gap, Crane County, Homer Henderson, Horsehead Crossing, Juan Cordona Salt Lake, Links to Odessa American, E. N. Beane's Crane County History)
---
---

TXGenWeb Project Archives for Crane County

USGenWeb Archive Files

TXGenWeb Counties A - Z

TXGenWeb Project Clickable Links to County Maps


---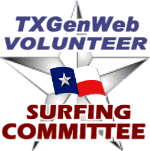 Search
the Crane County TXGenWeb Site!

Please note: This search will locate your surname(s) or keywords on any page that is part of this site
but does not cover pages that are "offsite".You will need to search that database separately.
---
---
---

For 'LOOK UPS' Contact: the County Coordinator. If you have questions, comments, suggestions, or would like to volunteer in any way please Laura Gregory Roberts

---
Page Modified: 01 January 2019
---
Copyright Notice: © 2011-Present Contents of this site have been gathered from many sources and transcribed records. Therefore, errors may occur. When in doubt as to the accuracy of data contained herein, go to the actual records yourself. The information contained in this website is for your personal use only. All pages, compilations, transcriptions and abstracts are protected by copyright law and may not be published in whole or in part without written consent of the author, contributor and/or webmaster.