Francis Edward "Bud" Marable & Willie Etta Callis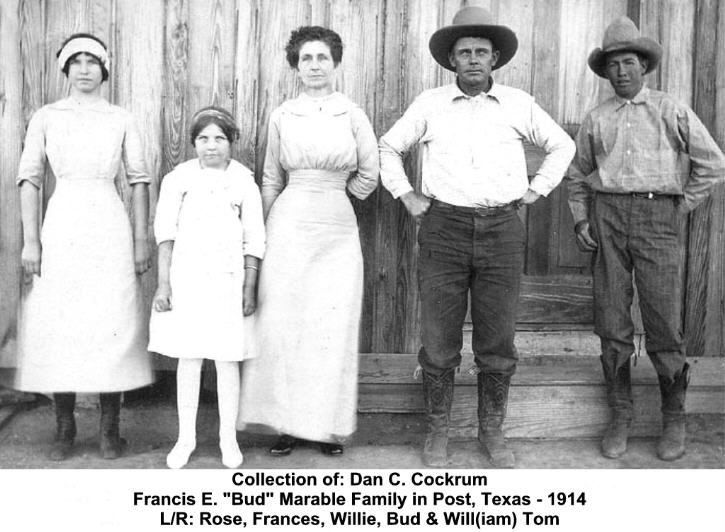 This photo was taken one year after Bud Marable bought the O.K. Wagon Yard from Ed Scott and moved the family to Post from Round Tub Camp where he had worked for the U Lazy S Ranch. It was taken two years before their daughter Sybil Lorene Marable was born and three years before Bud passed away while working at the wagon yard.
Francis Edward "Bud" Marable was born the oldest son of Thomas Edward and Martha Davis Marable in McLennan County, Texas, on February 12, 1874. He had an older sister, Rosa Lee, and eventually a younger brother, Robert. Sometime after Bud's birth the family moved to Scurry County, Texas, where Bud grew up working on his father's farm and as he grew older working as a cowboy on various ranches in Scurry and surrounding counties.

On August 24, 1894, he married Willie Etta Callis at her parentsí home in Snyder. After the birth of two children, Will Tom and Rose, the family moved to Bud's father's place southwest of what is now Justiceburg, Texas, in 1901. According to family history, the trip took two days by covered wagon, spending a night in the settlement of Old Light.

In 1904 the family moved back to Snyder where a daughter, Frances was born in September. Tom and Rose attended school in Snyder.

In the spring of 1905 the family moved back to the vicinity of Justiceburg and in the fall of that year a Miss Ella Smith taught school for about three months in the Marable home.

Bud and his family homesteaded three sections of land 10 miles southwest of Justiceburg and moved there around 1910. In addition to farming and running some livestock on his homestead, Bud worked as a cowboy on the Curry Comb and U Lazy S ranches and as a cook for the OS ranch. Eventually he sold the land he homesteaded and moved to Round Tub Camp where he worked for the U Lazy S Ranch.

In 1913 he moved his family to Post, Texas, after buying a wagon yard from Ed Scott. The Marables' youngest daughter Sybil Lorene was born there in 1916.

Bud was operating his wagon yard when he passed away on January 27, 1917, and now rests in Terrace Cemetery on the outskirts of Post.