Fugitives From Justice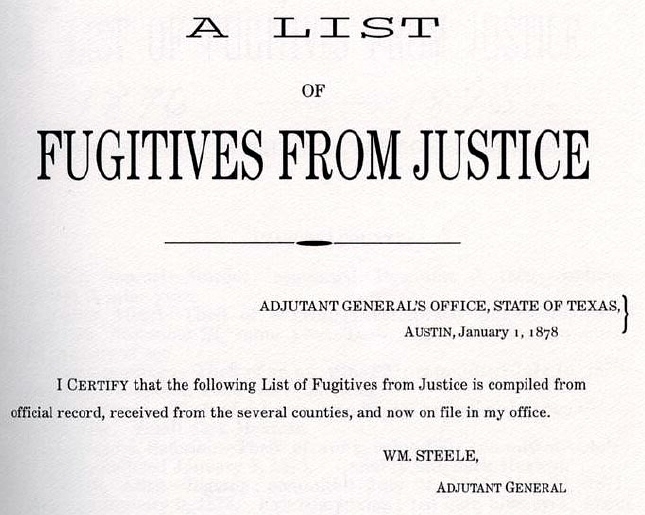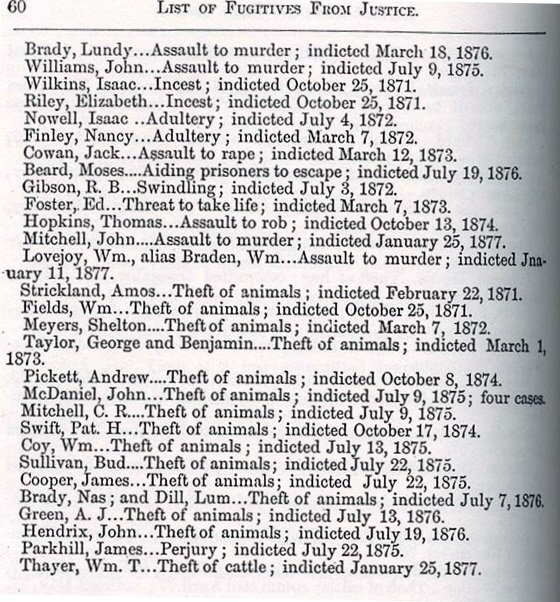 The following was listed in Burnet County:
Burnet Co. --- Hunt Co.
Thompson, Bud; Hart, Charley, alias Clarke, Charley - Theft of gelding in each case;
committed April 1, 1874; indicted August 8, same year;
Hart is about 26 years old, dark hair and eyes,
about 5 feet 10 inches high, weighs about 140 pounds;
lived in Hunt county and was under conviction for murder in Collin county,
but has made his escape pending an appeal;
claimed to be a nephew of Judge Hardin Hart of Waco, Texas;
when Hart left had a recent shot-gun wound through the knee-joint, and supposed to be lame.
Bud Thompson is 5 feet 8 or 9 inches high, a heavy brutal countenance,
light complexion, hair and eyes, heavy build, about 25 or 26 years old,
and weighs some 175 pounds.
Source:
Fugitives from Justice
The Notebook of Texas Ranger Sergeant James B. Gillett
introduction by Michael D. Morrison
State House Press
Austin, TX 1997
To read more about the notebook: click here
Thanks to Bunny Freeman for sharing this information.