Links to Texas History Sites


The Texas Historical Commission.  The State Agency for Historic Preservation.  (The Texas Historical Commission erects these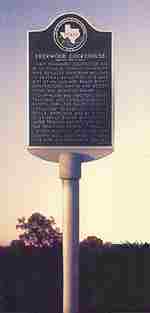 throughout the state.  The Texas Historical Commission maintains files for all of the Texas Historical Markers and Recorded Texas Historic Landmark Designations in Texas.  If a repository near you does not have them for a marked site you are looking for, contact the commission. 

  The Texas State Archives.  The Texas State Archives is the genealogist's primary source when it comes to Confederate records for Texas, as well as with regards to almost everything from photographs, early newspapers and land records, to the most valuable of state documents.  The TSA also has a very large genealogy library. 
Houston Independent School District Social Studies Information.  This helpful site will direct you to many other valuable sites regarding Texas history and social studies. 

The Texas Historical Association.  This site also includes information on the University of Texas at Austin Center for Texas Studies.