1895 Hanging
Last Legal Hanging in Limestone Co., 1895
Thanks to Edward L. Williams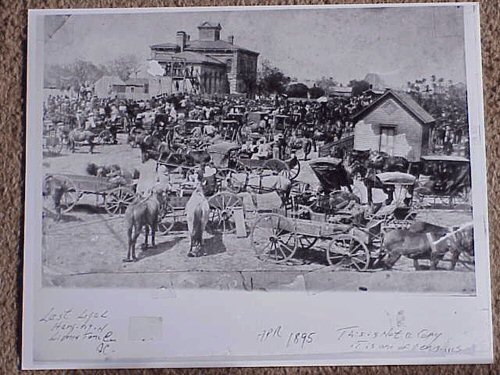 I was just looking at your great website and found the picture of the last legal hanging in Limestone Co, TX
submitted by Edward L. Williams and realized I could contribute a little information.
The man being hung is a freed slave, Richard Burleson, for murdering my great grandfather, James Garrett McKinnon.
The murder was committed May 3, 1894 by Burleson robbing my great grandfather for a $20 gold piece he'd seen him with
earlier. James offered Burleson a ride in his wagon, Burleson accepted, then clubbed James over the head with a rock.
The date of the hanging is April 12, 1895.
My father, Carl Lee McKinnon, was born in Mexia, Limestone Co., TX on April 13, 1894 just 3 weeks before his
grandfather was murdered.
Tom W. McKinnon
Cornville, AZ