This page is a part of the Upshur County TXGenWeb project and all of the information here is FREE for you to use.

1909 Upshur County Court House

Gilmer, Texas

The first settler within the limits of modern Upshur County was probably Isaac Moody, who settled on the Cherokee Trace near West Mountain in 1836. The area that is now Upshur County was originally part of Nacogdoches County and later was incorporated into Harrison County. On April 27, 1846, after Texas was admitted to the Union, the first legislature of the state of Texas established Upshur County; at that time the county included the area of present Camp County and part of modern Gregg County. On May 1, 1848, the county's voters chose the location for Gilmer, the county seat, and in August the sale of blocks and lots in the new town began. (More)



Genealogy is the gift we bequeath to our children.
It is the art of immortalizing everyday people.



We would like to dedicate these awards to the wonderful patrons of Upshur County. They are truely the ones that made this possible by sending in such a vast amount of information. Their names are too numerous to list, but they have worked hard reading cemeteries, taking pictures, digging through personal files, transcribing data, sending old photographs, doing lookups, typing, etc. We appreciate all their hard work and input, and we look forward to being able to continue working with each and every one. Congratulations Upshur County Patrons and lets continue to make the Upshur County TXGenWeb site grow!
Elaine McCoy Martin is resigning as County Coordinator for Upshur, Gregg and Cass Counties.
She is going to be greatly missed.
She has served with the TXGenWeb for over twenty years in various positions.
Thank you for your outstanding
contributions to TXGenWeb!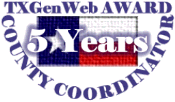 Sheila Pool

Upshur County TXGenWeb County Coordinators: Sheila Pool, Anita Nolan & Etta Withers

If you would like to submit any information, or volunteer for any projects, please feel free to contact us. Our motto is that there is no information that is too large or too small to be of benefit to our fellow researchers. We never know what little tidbit is going to break down a brick wall for someone. We are here to help you break down that brick wall!

TXGenWeb State Coordinator: Rob Yoder

A listing of all Upshur County towns/communities, past & present:
Gilmer is the county seat.








Ada
Asbury
Ashland
Bethlehem
Bettie
Big Sandy
Boxwood
Brumley
Calloway
Carrollton
Cedar Springs
Center Point
Centerville
Chapel Hill
Chelsea
Coffeeville
Concord
Cox
Crossroads
Cypress
Delrose
Diana
Double Springs
East Mountain
Elam Springs
Enoch
Enon
Essex
Ewell
Fazenda
Forest Hill
Friendship
Gilmer - County Seat
Gladewater
Glenwood
Graceton
Grange Hall
Grice
Hopewell
Horace
Independent Springs
Indian Rock
James
Jameson
Jamestown
Johnson Chapel
Johnstonville
Kelsey
Lafayette
Lake Providence
Latch
Lee
Little Mound
Lockhart's Switch
Locust Grove
Lone Mountain
Lowe

McPeek
Midway
Mings Chapel
Mount Gilead
Mount Lebanon
Neals
New Bethlehem
New Mountain
Newson
Nix Chapel
Noah
Nubbin Ridge
Old Diana
Olive Branch
Ore City
Pattonfield
Piedmont
Pine Grove
Piney Grove
Pleasant Grove
Pleasant Hill
Poor Creek
Possum Trot
Pritchett
Red Rock
Rhonesboro
Rosewood
Sand Hill

Seven Pines
Shady Grove
Simpsonville
Smith
Smith's Mill
Snow Hill
Soules Chapel
Stamps
Stracener
Suffolk
Summerfield
Summit
Syringa
Teague
Thomas
Toddville
Union Grove
Union Grove
Union Hill
Union Ridge
Valley View
Wallace Chapel
Warren City
West Mountain
Wilkins
Wilkins Mills
Willow Oak
Woodland
Zion Hill







TXGenWeb Projects & Texas Links

USGenWeb Projects

WorldGenWeb Projects