SANTA RITA CEMETERY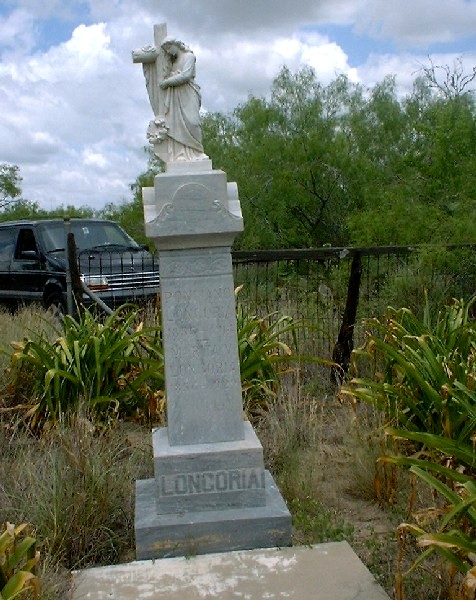 The Santa Rita Cemetery is the oldest of the Longoria family cemeteries in southern Brooks County. It is located at the now abandoned site of the Santa Rita Ranch, originally founded by Ponciano Longoria and Maria Rita Villarreal.
The history of the Santa Rita Ranch and the Santa Rita cemetery began with the purchase of the "La Encantada" and "Encino del Pozo" land grants in 1872 by Don Gregorio Villarreal. A year later in 1873, Juan Longoria, a resident of Grulla (commonly called La Grulla) in Starr County, purchased one league (about 4428 acres) of land at "La Encantada" from Don Gregorio and subsequently purchased additional acreage from some of the heirs of Don Gregorio. In 1876, Juan Longoria's son Ponciano married Maria Rita Villarreal, one of the daughters of Don Gregorio, and established a home in La Grulla, situated on Porcion 94 which was originally granted in 1767 by the King of Spain to Ponciano's great-grandfather Pedro Longoria. Don Gregorio Villarreal died in 1882 and Juan Longoria died in 1892. Ponciano's 1/8 share of his father's estate plus his wife Maria Rita's 1/7 share of her father's estate combined to form a landholding comprising over 3800 acres. Ponciano and his wife Maria Rita then proceeded to purchase some of the interests of other heirs, eventually increasing their joint landholdings to over 5000 acres. About 1912 or 1913, Ponciano finally established a home site on the ranch and moved his family there from La Grulla. Ponciano named his ranch "Santa Rita" in honor of his wife.
The Santa Rita cemetery was established upon the death of Ponciano Longoria on June 25, 1914. It is situated just a few hundred feet northeast of the ranch site. The cemetery is located about 5 miles west of Rachal on FM 755 and about a half-mile south of the highway. It is accessible only through private roads. Descendants of Ponciano Longoria & Maria Rita Villarreal still own the cemetery site and most of the surrounding lands. The last burial in the cemetery occurred in 1961.
Among those buried at the Santa Rita cemetery are Ponciano Longoria and his wife Maria Rita Villarreal, daughters Juana and Francisca and their respective husbands (the third daughter Maria Rita is buried with her husband in Las Cuatas cemetery near Encino), and about 8 infant grandchildren of Ponciano & Maria Rita. The three sons of Ponciano & Maria Rita all had family cemeteries established on their own inherited lands and were buried there: Eugenio at the (Eugenio) Longoria cemetery, Mateo at the San Mateo cemetery, and Juan at the Juan Longoria cemetery.
The infant graves at the Santa Rita cemetery either had no grave markers or were originally marked with wooden crosses, which have long since disappeared. Following is a list of the persons known to be buried at Santa Rita; there may be others whose grave markers have disappeared over the years.
SANTA RITA CEMETERY
Graves marked with Gravestones:
Name
Birth
Death
Comment
Ponciano Longoria
Maria Rita Villarreal de Longoria
Juana Longoria de Villarreal
Concepcion Villarreal
Francisca Longoria de Trevino
Simon Treviño
Josefa Bazan de Villarreal
Herminia Longoria de Soliz
Benita Cantu

abt. 1852
abt. 1857
8/29/1881
abt. 1874
3/9/1890
8/28/1889

1909
3/21/1882

6/25/1914
1/29/1929
1/13/1916
1/13/1925
3/21/1947
3/10/1961

1929
11/01/1921


w/o Ponciano Longoria
d/o Ponciano & Maria Rita
h/o Juana Longoria *
d/o Ponciano & Maria Rita
h/o Francisca Longoria
w/o Gregorio Villarreal II
w/o Pablo Soliz
w/o Zaragosa Soliz

* Buried in same grave with wife, but his name is not on headstone.

h/o = husband of
w/o = wife of
s/o = son of
d/o = daughter of
Unmarked Graves:
Name
Birth
Death
Comment
Guadalupe Longoria
Unnamed baby boy Longoria
Unnamed baby boy Longoria
Estella Longoria
Ersilia Longoria
Anadelia Treviño
Juan Longoria
Unnamed baby girl Longoria

1917
abt. 1918
abt. 1919
abt. 1923
abt. 1926
4/14/1928
abt. 1931
abt. 1932

abt. 1919
8 days old
6 days old
8 days old
8 days old
abt. 1928
at birth
5 days old

s/o Juan/Maria Leal Longoria
s/o Juan/Maria Leal Longoria
s/o Juan/Maria Leal Longoria
s/o Juan/Maria Leal Longoria
s/o Juan/Maria Leal Longoria
d/o Simon & Francisca Trevino
s/o Juan/Maria Leal Longoria
d/o Juan/Maria Leal Longoria


Sources: Raul N. Longoria, Irma Longoria Cavazos, Rene S. Longoria and Pedro Ramirez, Jr.
Photo Credits: View of Santa Rita Cemetery by Pedro Ramirez, Jr.; Tombstone of Ponciano & Maria Rita Longoria by Irma Longoria Cavazos.
Copyright 2005-2017
Contents used with permission, all rights reserved.